Notice
: Undefined property: stdClass::$caption3 in
/home/dunfermline/public_html/news/story2.php
on line
32
Notice
: Undefined property: stdClass::$alttext3 in
/home/dunfermline/public_html/news/story2.php
on line
33
Notice
: Undefined property: stdClass::$caption4 in
/home/dunfermline/public_html/news/story2.php
on line
36
Notice
: Undefined property: stdClass::$alttext4 in
/home/dunfermline/public_html/news/story2.php
on line
37
Notice
: Undefined property: stdClass::$copyright4 in
/home/dunfermline/public_html/news/story2.php
on line
38
Notice
: Undefined property: stdClass::$audio1 in
/home/dunfermline/public_html/news/story2.php
on line
57
Notice
: Undefined property: stdClass::$audio2 in
/home/dunfermline/public_html/news/story2.php
on line
58
Notice
: Undefined property: stdClass::$audio3 in
/home/dunfermline/public_html/news/story2.php
on line
59
Notice
: Undefined property: stdClass::$audio4 in
/home/dunfermline/public_html/news/story2.php
on line
60
Deprecated
: Function eregi() is deprecated in
/home/dunfermline/public_html/news/story2.php
on line
66
Deprecated
: Function eregi() is deprecated in
/home/dunfermline/public_html/news/story2.php
on line
71
Deprecated
: Function eregi() is deprecated in
/home/dunfermline/public_html/news/story2.php
on line
71
Deprecated
: Function eregi() is deprecated in
/home/dunfermline/public_html/news/story2.php
on line
76
Deprecated
: Function eregi() is deprecated in
/home/dunfermline/public_html/news/story2.php
on line
81

Notice: Undefined variable: FONT2 in /home/dunfermline/public_html/news/story2.php on line 93

---
Peatbog Faeries, PJ Molloys

By Dunfermline.info - Tue, 23rd Jul 2013


One of Scotland's best known contemporary folk bands, the six-piece instrumental Celtic Fusion 'Peatbog Faeries' from the Isle of Skye, will be performing at PJ Molloy's on Sunday 28th July.
Voted 'Best Live Act' at the Scottish Traditional Folk Awards in 2005 and 2008, the band have played Glastonbury three times and travelled the world with their distinctive Scottish sound to countries as wide ranging as the USA, Canada, Australia, Singapore, Borneo, Namibia and Botswana. Famed for their exhilarating high energy performances that has seen them perform in front of 50,000 people at the Womad Caceres Festival in Spain, they have graced the stage of Scotland's 'Celtic Connections' ten times and also represented Scotland in Sri Lanka in the successful bid to bring the Commonwealth games to Glasgow next year.

"Powerful melodies are dextrously pumped out with a smart degree of techno attitude, while cross-rhythms ricochet over a heavy bass that hits you forcefully like a massive heart beat. Nothing in the recognisable front line of bagpipes, fiddles, synthesiser, bass and rhythm guitar, with a straight drumkit at the back, prepares you for the high octane music of the Peatbog Faeries." The Scotsman

Tickets for 'Peatbog Faeries' Dunfermline performance priced £15 are available online at www.ticketweb.co.uk, in PJ's bar in Canmore Street or on the door on the night.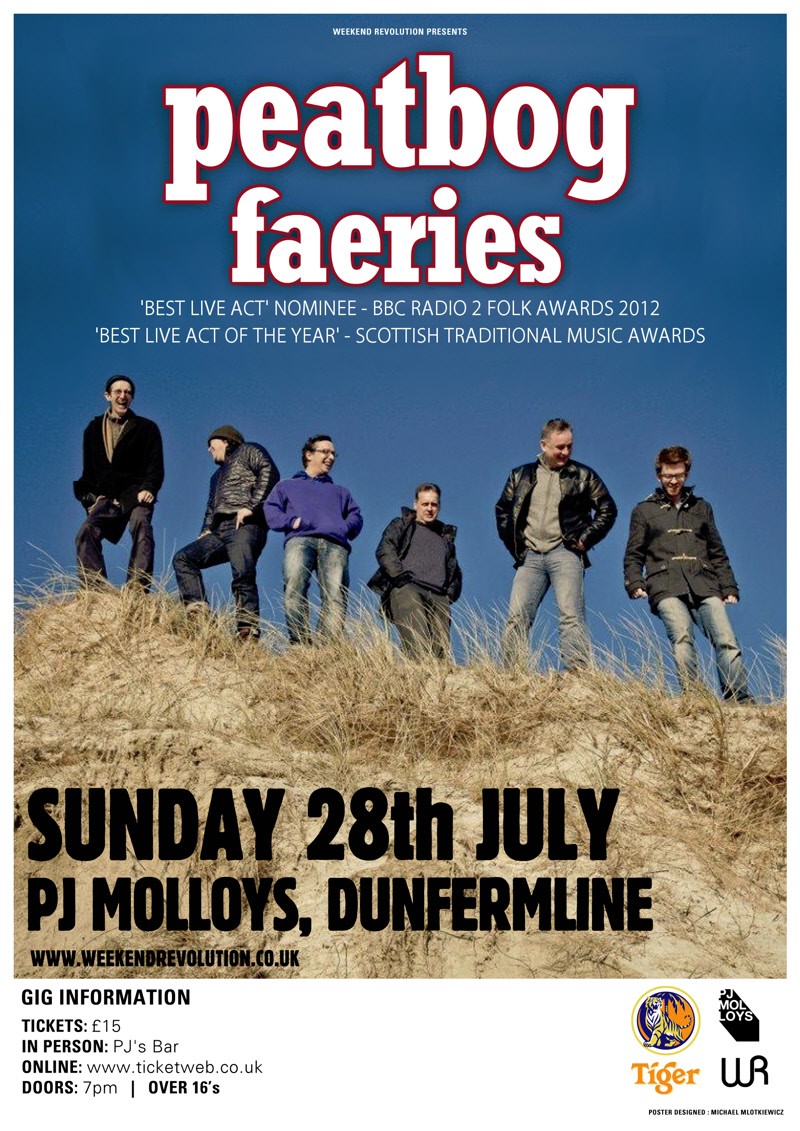 Notice: Undefined variable: V in /home/dunfermline/public_html/news/story2.php on line 384